Blackhills Specialist Dental Clinic celebrates 10 years in business
Blackhills Specialist Dental Clinic celebrates 10 years in business
Date Published:30/03/2017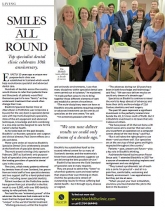 On the 1st February 2017 Blackhills Specialist Dental Clinic celebrated its 10 year anniversary.
Take five minutes, grab a coffee and read this article which has just appeared in the Spring 2017 edition of the Living magazine.
A lot has changed since we opened and we continue to aim to provide a great service for our dental colleagues and patients.