Oral Cancer Action Month
Date Published:01/11/2018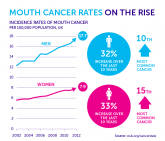 It's November which means it is Oral Cancer Action Month, a campaign dedicated to raising awareness of the signs and symptoms of mouth cancer and promoting the importance of early detection in ultimately saving lives. Here are some facts about Oral Cancer.
In the UK, one person is told they have mouth cancer every 77 minutes.
This is almost 7 thousand people every year.
Mouth cancer claims more lives than testicular and cervical cancer combined.
Mouth cancer takes more lives every year than road traffic accidents on Britain's roads.
Mouth cancer is diagnosed in more than twice as many men than women but there are more cases in women than ever before.
Shockingly, one in ten have never heard of mouth cancer.
Cases of mouth cancer have increased by a third in the last decade alone.
Survival rates based on a late diagnosis are as little as 50% but chances of survival drastically increase with anearly diagnosis to 90%.
Scotland has more cases per capita than in England, Northern Ireland or Wales.
Mouth cancer is one of very few cancers which incidences are actually predicted to increase in the future.
Smoking is the leading cause of mouth cancer.
But HPV is predicted to overtake it as the leading cause of mouth cancer in the next decade.
Excessive use of alcohol is linked to more than a third of mouth cancer cases in men and a fifth in women.
Heavy drinkers and smokers are up to 35 times more at risk.
Mouth cancer can often be spotted in its early stages by your dentist during a thorough mouth examination.
As part of every check-up a dentist is required to carry out a visual examination to look for the early signs of mouth cancer.
Mouth cancer can affect anyone.
Signs and symptoms of mouth cancer include: ulcers which do not heal within three weeks, red or white patchesand any unusual lumps or swellings.
If in doubt get checked out by your dentist or doctor as soon as possible.