Great Honour for Blackhills Clinic
Great Honour for Blackhills Clinic
Date Published:05/03/2020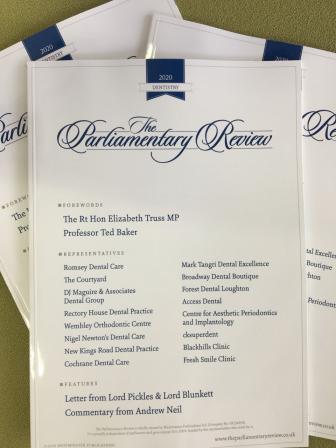 For the second time in 5 years, Blackhills Specialist Dental Clinic has been selected to appear in The Parliamentary Review. Initially in the Private Healthcare edition (2015) and this year in the Dentistry edition. The Parliamentary Review is a 'State of the Nation' document introducing the leading exponents in their fields and once again, Blackhills is the only Scottish representative.
The publication is chaired by Lord Pickles and Lord Blunkett with the "strategic aim of raising standards by highlighting best practice". The Parliamentary Review is sent to over 500,000 leading business executives, policy makers and other relevant individuals.
Parliamentary Review Executive Director, Daniel Yossman said: "The key idea of the Review is to highlight best practice of outstanding leaders in their field – the contributors thus act as a template for reform.
"We don't just pluck businesses out of the air for the Review," he explained. "Experienced research staff work tirelessly to source the outstanding practitioners in each sector whose work and good practice set them apart as key influencers and leaders in their field.
"Blackhills Clinic is seen as an outstanding representative of dental care" said Mr Yossman, "and their example will help to raise standards and set agendas within their field in the years ahead.